Anna Waronker & That Dog
A Family Affair
Michael Holloway, Australia
Born: Anna Jeanette Waronker
July 10, 1972
Birthplace: Los Angeles, Calif.
Music is a family affair with Anna Waronker, who comes from a distinguished family of musicians. She is the daughter of producer Lenny Waronker and actress/musician Donna Loren, the sister of session drummer Joey Waronker, and is married to Steven McDonald of the band Redd Kross. She is also sister-in-law to The Go-Go's lead guitarist and keyboard player, Charlotte Caffey, who is married to Steven's brother Jeff McDonald.
That Dog
Waronker began her music career in the popular 90's seminal rock band That Dog (also known and spelled as that dog.) Together, with two of the esteemed Haden triplets, violinist Petra and bassist Rachel (though, Tanya would often come on board as guest cellist), and drummer Tony Maxwell. The band recorded three eclectic albums over the course of the six years they worked together. that dog, Totally Crushed Out, and Retreat From The Sun, released in 1994, 1995, and 1997 respectively, were clearly aimed at Indie audiences, yet retained the catchy lyrics and hooks of the pop world.
Innovative and Packed With Punch
The big hit from That Dog was He's Kissing Christian, a provocative journey into the soul of a female protagonist who slowly comes to realize her boyfriend is gay. While she wishes to be non-judgmental, her love for him makes it hard to reconcile herself to the fact he will never be hers. In a time when gay themes weren't the norm for mainstream audiences, this song and pretty much the entire That Dog catalog of songs were innovative and packed with punch. Another great classic song is Gagged And Tied, a paean to good old kinky sex (a theme also enjoyed by The Go-Go's with their Fun With Ropes song).
Unfortunately, That Dog did not quite make the impact they hoped for with mainstream audiences, so they disbanded in 1997. Waronker began writing songs for film scores, which she continues to this day, along with Charlotte Caffey. Some of the films that Waronker and Caffey worked on include: Clueless (1996), starring Alicia Silverstone, Josie And The Pussycats (2001), starring Rosario Dawson, Rachel Leigh Cook, and Tara Reid, and Laurel Canyon (2002), starring Christian Bale. Waronker and Caffey have also written songs for television shows, including Dawson's Creek and Grey's Anatomy.
Waronker also worked on various musical projects including  a one album release in 2002 with her husband, brother-in-law, and niece, Astrid Caffey-McDonald (Charlotte and Jeff's daughter, a then ten-year-old drum prodigy). Calling themselves Ze Malibu Kids, the group of loveable larrikins released Sound It Out, featuring original songs, as well as, Waronker's brilliant cover of Carly Simon's classic hit You're So Vain. The album was a fun project and remains popular with fans of Waronker, That Dog, and Redd Kross, but Ze Malibu Kids knew their longevity was not forthcoming, so any future projects are on, what looks to be, a permanent hiatus for now.
First Solo Album
 That same year, Waronker released her first solo album Anna By Anna Waronker, which was critically acclaimed as a strong breakthrough for the talented singer, songwriter, and guitarist (although, she has shown adeptness at playing many other instruments). The songs were as catchy as the nude cover photo and with instantly memorable hits like I Wish You Well, Waronker was well on the way to becoming one of the musical world's most inspiring rock divas. A couple more albums like Anna will see her shoot to the top of her profession.
Waronker is working on a sophomore album, California Fade, which has to be one of the most anticipated (and sadly most delayed) productions in recent years. The album has been in and out of production since 2006, and the finished product is still nowhere in sight.
However, Waronker said on her website, "California Fade is mixed and mastered. Artwork is in the process of being worked on. I'm working with two amazing artists, Mary Wigmore and Rob Reynolds. Not sure when the release date is just yet, but look out for some summer shows. My band is going to be Steve McDonald, Josh Klinghoffer, and Ryan MacMillan. They are all very busy playing in various other bands and recording records, etc., but we've talked about doing some summer shows to be followed up with some touring when the record comes out. Will keep you posted."
Five Foot Two
Still, fans of Waronker are optimistic because they know the album will be well worth the wait. I just hope we don't have to wait too much longer.
In the meantime, Waronker has graciously offered her fans a couple of music videos for two of her new songs from California Fade on MySpace.
Waronker's (left) and Caffey's (right) productions are produced through their Five Foot Two Records label, which they own and operate from Los Angeles. Both women have experienced the music industry as artists, unlike the suits managing the major labels so they are more qualified to know an artist's needs and now that they are managers themselves now, they hope to foster their family-friendly image and break from the corporate shark-fest known as the "music industry."  On their website's front page, the duo explain why theirlabel is different and more artist-friendly than many of the bigger labels.
Linda Lovelace, Deep Throat, and a Musical Biography
Another fascinating project that Waronker and Caffey are working on is a musical biography of Linda Lovelace, infamous for starring in hard core porn movies such as Deep Throat (1972). Lovelace was born Linda Susan Boreman on January 10, 1949 and was killed in a car accident on April 22, 2002. During her life she had also contracted hepatitis through a blood transfusion in 1970 and had a liver transplant in 1987 though neither contributed to her death.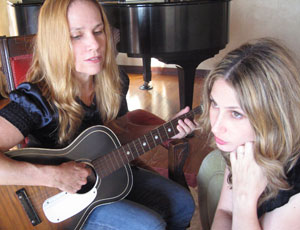 Waronker describes the colorful life and career, "Linda Lovelace became a sensation, counting Warren Beatty and Jack Nicholson as her fans. By all accounts, at the time, she was on top of the world. A sexually liberated woman taking full advantage of the sexual revolution. But, just a few years later, she was telling a different story. One of abuse and imprisonment at the hands of her husband Chuck Traynor. She was embraced by the feminist movement and its anti-porn crusade, becoming one their premier spokeswomen, even going on to speak numerous times in front of the U.S Senate.
In the style of Tommy and Jesus Christ Superstar, Lovelace: A Rock Opera, tells Linda's story. From pregnant teenager in Yonkers, New York to her turbulent relationship with Traynor and the making of Deep Throat, through to her triumphant rebirth as activist and suburban wife and mother."
Waronker and Caffey wrote the book, music, and lyrics for Lovelace: The Rock Opera, together with Jeffery Bowman whose concept this musical was, and the director is acclaimed theater impresario Ken Sawyer. The production is showing at The Hayworth Theater in Los Angeles, California, and the current performances schedule – up until November 23 2008–can be found here.
The cast of Lovelace includes: , Jimmy Swan, Whitney Allen, Josh Greene, Alan Palmer, Curt Bonnem, Jill Burke, Rachael Kruk, Milan Cronovich, and Kelly Devoto.
Secrets
In 2007, Waronker added acting to her already impressive list of accolades by appearing in What We Do Is Secret. She played iconic 70s rocker Joan Jett (of The Runaways) in a musical biopic based on the life of punk legend Darby Crash and his band, The Germs. Shane West played Crash, Lauren German appeared as Belinda Carlisle (during her early heyday with The Go-Go's), and other punk greats were depicted in the film. These included: Lorna Doom (Bijou Phillips), Pat Smear (Rick Gonzales), Don Bolles (Noah Segan), Rob Henley (Ashton Holmes), Billy Zoom (Trevor Parsons), and Black Randy (Chris Pontius.)
What We Do Is Secret was released on DVD on November 4, 2008 and is featured in Anna Waronker & The Dog's discography.
It is interesting to note that Bijou Phillips is the daughter of The Mamas And The Papas' John Phillips and the half-sister of Chynna Phillips who was half of the 80s power pop duo Wilson-Phillips (along with Carnie and Wendy Wilson, the daughters of The Beach Boys' Brian Wilson.) Chynna Phillips is married to actor William Baldwin, brother to Alec, Daniel, and Stephen. Yes, keeping it in the family is the name of this game.
Whatever she decides to do in her career, fans can be assured that Waronker will deliver the goods with all the enthusiasm, talent, and excitement she has to offer, which is always a stellar deal. Although we watch and wait for any sign of California Fade to FINALLY be released on CD, we know this great lady of rock will continue to work prolifically on many fun and diverse projects.
Tagged Anna Waronker, music, That Dog